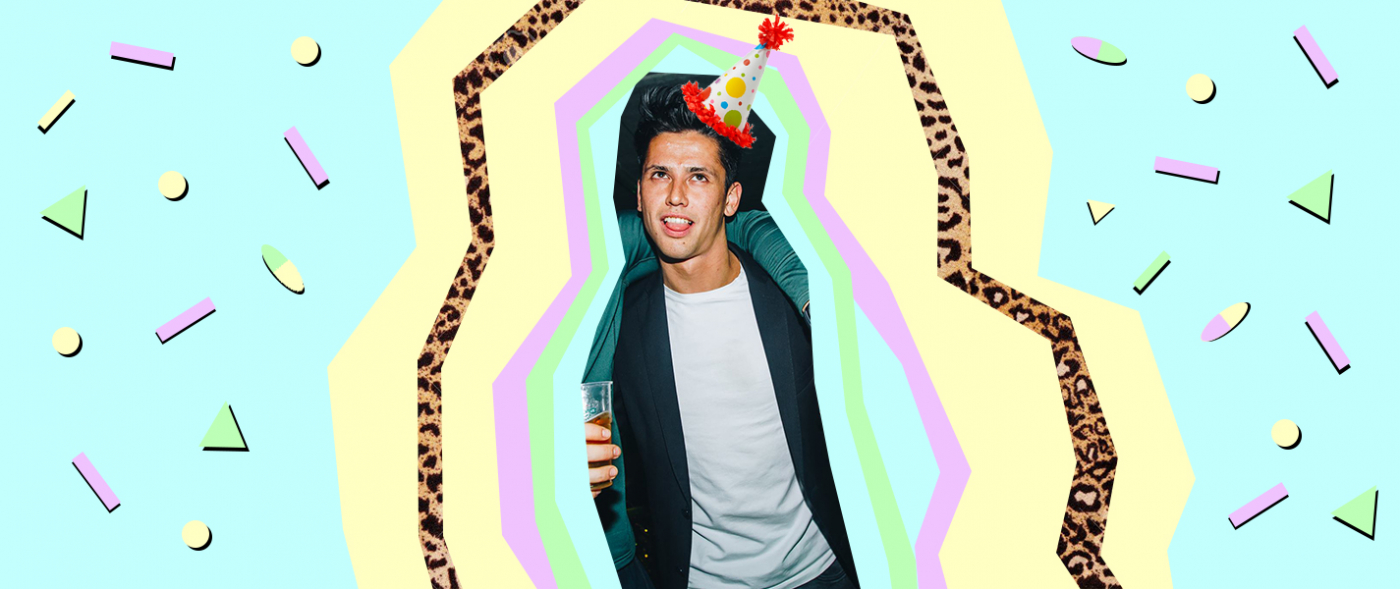 For 2,5 years Thom Specht has been producing the coolest videos for Boomerang, that's why it's about time we gave an ode to this bad boy. At an office full of trendy people, he manages to be even trendier than most. Thom has been living in Haarlem for years and has single-handedly made that city so cool that every millennial now wants to move there. The cost of Amsterdam housing might play a tiny role in this too, but the thought of being able to live near Thom Specht is what gives people the final push. Funda has stopped referring to locations as being 400 meters away from the city centre and started saying they're 400 meters away from Thom's house.
At the office, Thom isn't just Mister Cool Himself but also an insanely hard worker. Conjoined with his phone he is always busy getting shit done. Even when he is not working, he never stops: During an office trip to Bordeaux, in the middle of the night he blackmailed a cab to go through the McDrive to pick up 80 burgers to get dozens of drunk colleagues their much-deserved dose of greasy snacks. Thanks to this operation, he was a long time favourite for a Nobel Prize, too bad 'making drunk idiots happy' isn't an actual category.

Despite missing out on that prize, Thom is popular with all. Especially with the ladies. When mothers hear he is going out, they anxiously keep their daughters inside. Yet these daughters often cannot resist sneaking out upon hearing Thom's testosterone-fueled mating call. Looking this good is hard work for him though. He spends an hour every morning perfecting his hairdo and whereas most Dutch simpletons only get their hair cut once every two months, Thom gets his lavish locks perfected every other week.
Still, there is one moment where our super-producer might look a little less fresh: Monday mornings. This has everything to do with Thom's motto 'work hard, play even harder'. The sound of someone opening a beer anywhere in a ten-kilometer radius is enough to make him stand on the tables. That's why he always needs at least part of his Mondays to recover, but around noon, he's usually himself again. Then he is back to making sure every shoot is going smoothly. We could never do without Thom and hope he'll stay party of the Boomerang-family for a long time.
And now in Dutch
Al 2,5 jaar produceert Thom Specht de vetste video's voor Boomerang, dus het is de hoogste tijd dat wij een ode aan deze mooiboy produceren. Op een kantoor vol hippe mensen, behoort hij tot de buitencategorie. Thom woont al jaren in Haarlem en heeft die stad in zijn eentje zo cool gemaakt dat millennials er nu massaal naartoe verhuizen. Natuurlijk, de huizenprijzen in Amsterdam spelen daarin ook een minuscule rol, maar het is toch vooral de gedachte dat je dichtbij Thom Specht kunt wonen die mensen over de streep trekt. Op Funda wordt bij de locatie dan ook niet gezegd dat het vierhonderd meter verwijderd is van het centrum, maar vierhonderd meter van Thoms huis.
Op kantoor is Thom naast de coolheid zelve ook een bizar harde werker. Hij vormt met zijn telefoon een Siamese tweeling en samen zijn ze de hele dag bezig om shit te regelen. Zelfs buiten werktijden weet hij van geen ophouden. Zo charterde Thom tijdens het bedrijfsuitje in Bordeaux midden in de nacht een taxi en reed langs de McDrive om tachtig hamburgers te halen, zodat tientallen dronken Boomerangers in het hotel werden voorzien van hun welverdiende portie vettigheid. Door deze actie was hij lang de grote favoriet voor een Nobelprijs, maar helaas bleek de categorie 'laveloze lapzwansen gelukkig maken' niet te bestaan.

Ondanks het mislopen van die prijs is Thom bij iedereen populair. Vooral bij het vrouwelijk geslacht. Zodra moeders weten dat hij die avond uitgaat, houden ze angstvallig hun dochters binnen. Alleen sluipen die dochters vervolgens toch het huis uit, want zij kunnen de lokroep van deze testosteronbom niet weerstaan. Het is voor Thom wel hard werken om er zo verleidelijk uit te zien. Zo is hij iedere ochtend een uur bezig om zijn kapsel perfect in model te boetseren. En waar de meeste Hollandse boerenlullen eens in de twee maanden naar de kapper gaan, laat Thom om de week zijn weelderige haardos bijpunten.
Er is één moment waarop onze superproducer er iets minder fris uitziet: maandagochtend. Thom leeft namelijk volgens het motto 'work hard, party even harder'. Zodra er iemand in een straal van tien kilometer een biertje opentrekt, hangt Thom al in de lampen. Hij moet op maandag dus altijd een dagdeel herstellen van het weekend, maar 's middags is hij weer het mannetje. Dan is hij weer de baas die zorgt dat elke shoot op rolletjes verloopt. We kunnen dan ook niet zonder Thom en hopen dat hij nog heel lang lid blijft van de Boomerang-familie.